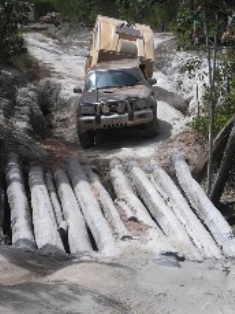 The Idlers 4WD Club of Victoria was formed in 1995 with just under twenty members. According to publicity at the time, the key attraction of the new club was the prospect of being able to meet and tour when other people are at work!
Despite today having over 150 memberships comprising over 280 people, the club still pursues the same off-peak philosophy and retains the 'small club' feel where members look out and care for one another. Note: One membership generally comprises two people being husband and wife or partner. We also have a number of single members, both male and female, who take the opportunity to form new friendships and travel with a friendly and supportive group. 
The aims of the club are to:
support and service the interests of members in undertaking

four wheel drive trips and related activities
other trips and social events
community support activities

promote the preservation and improvement of the environment through responsible attitudes and use of our four wheel drive vehicles
promote, encourage and support the interests of owners and drivers of four wheel drive vehicles.
The club is managed by a Committee elected annually at our AGM, held in March. 
The club is an affiliated member of 4WD Victoria.
We conduct monthly General Meetings and have a monthly club newsletter.
What we do
We cater for the retired and semi retired by providing the opportunity for our members to enjoy their travels with a group of like minded people.
We conduct most of our activities in off-peak periods.
Our trips and other events aim to cater for all tastes and levels of driver proficiency. 
We accept members with 4WD and AWD vehicles, although members with AWD vehicles may not be able to attend the more difficult trips.
From our home base in Melbourne, we conduct day trips, base camps and extended remote touring trips to variuos parts of Australia. These trips can involve tents, off road camper trailers and caravans or full size road caravans, depending on the destination which could be to our much loved Victorian high country, or at many classic locations like Cape York, Arnhem Land, The Kimberley, Simpson Desert, Flinders Ranges, Fraser Island or Mungo National Park. In other words,  just about anywhere in this great land of ours.  
In addition, we undertake trips with a community benefit, recovery work in flood or fire affected areas or restoration work in the state's parks. The club is socially active with monthly lunches at a local venue as well as our annual Christmas base camp (held late November) at various locations in country Victoria.
The club is not a tag-along organisation. It is essentially a social club of like minded people with a passion for the outdoors, using their four wheel drive vehicles to explore this great country. Each member takes responsibility for their own health and well being, vehicle preparation and social compatibility, particularly on long remote trips. The Trip Leader provides the itinerary and coordinates the trip group, often involving a pre-trip meeting. Each member of the trip is expected to provide day to day support in the activities associated with conducting a successful and enjoyable trip.
Further information
Want to get in touch? Click here for our Club Secretary
For information on how to become a member, click here New Members